Colorado Avalanche Creating Log Jam at Defense
The Colorado Avalanche look ready to sign 26-year-old defenseman Patrik Nemeth to a contract. How will that play out for their d-corps?
According to Avs insider Adrian Dater, the Colorado Avalanche are negotiating with defenseman Patrik Nemeth to offer him a contract, probably in the two- to three-year range. He is set to become a restricted free agent this summer. Colorado picked him up off of waivers early in the season.
If the Avalanche sign Nemeth — and it's likely that they will — they will have five players contractually guaranteed to play in the NHL next season:
They will also have contracts with three players who could technically divide their time between the AHL and NHL:
*Contractually, since he's on his entry-level contract. Doubtful he makes the drive up to Loveland and the Avs' new AHL affiliate.
What's more, the Avalanche signed last year's #31 overall, Conor Timmins, to his entry-level deal. GM Joe Sakic states he expects Timmins to make the team out of training camp.
That makes for something of a log jam at defense. Let's look at some of the ramifications and possibilities for this signing.
No Re-Signing of Duncan Siemens
Defenseman Duncan Siemens has been the great experiment since his draft, at 11th-overall, in 2011. He has fallen in and out of favor for seemingly minuscule reasons. Yet the Colorado Avalanche keep giving him chances — ie., contracts.
Siemens has had three contracts in five years. He had his 3-year entry-level contract and then back-to-back one-year contracts. He has 16 NHL games to his name in that time. He's scheduled to become a restricted free agent this summer.
I've often been a fan of Siemens's game. Honestly, I like his style better than Nemeth's. I almost feel like the Avalanche game Nemeth more leverage because they picked him up as an NHLer whereas they view Siemens as their own AHLer.
I'd love to see Colorado give Siemens another contract. But it surprised me when they offered him any contract at all last summer, so it wouldn't surprise me if they offered no contract at all this summer. And if they sign Nemeth, that's exactly what might happen.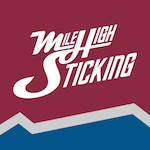 Want your voice heard? Join the Mile High Sticking team!
Write for us!
Trading Tyson Barrie
Conor Timmins is coming in next season. He may spend a little time in the AHL, but it sounds like Sakic, et. al, expect him to join the NHL club for next season. Timmins is a two-way defenseman who can put up scoring numbers.
That's not exactly a replacement for Tyson Barrie. However, the Avalanche also have Sam Girard, a fast, diminutive puck mover. And Cale Makar is coming within a year — he's another fast, diminutive puck mover — and one who can really score. And all of them are young.
It could be the Colorado Avalanche are going to attempt another Matt Duchene-style trade. It's unlikely they could pull off quite that lucrative a return a second time. However, I could see Joe Sakic entertaining pre-draft offers to secure some draft picks and prospects in return for Barrie.
Keeping Youngsters at the AHL level
So, the Avalanche will have Johnson, Barrie (barring a trade) and Zadorov, guaranteed spots in the lineup every night. They'll have Barberio, Girard, and Nemeth taking up the other three spots most nights.
In addition to Alt, Timmins and Lindholm, the Avalanche have Nicolas Meloche, Josh Anderson, Mason Geertsen and Sergei Boikov under contract. (They have a couple more, but they're mostly career AHLers.) One or two of them will stay with the NHL team. However, the rest of them will have to kick it in the AHL and wait for an injury to happen.
I'm guessing that, despite his two-way contract, Alt will stay with the NHL team for the most part. Timmins may start with the Colorado Eagles. Lindholm may start with the NHL team.
Meloche is 20, Anderson 19, Geertsen 23 and Boikov 22. It's not a tragedy if they spend some more development time in the AHL. (Also, Boikov missed all of last year with a concussion. Hopefully he's able to return.)
However, I don't want to see someone like Nemeth taking a spot away from the likes of Lindholm or, especially, Timmins. Hopefully he's just a stop-gap for a couple years until these prospects are ready for the NHL.
The Colorado Avalanche defensive corps is good. It's not great — there's always room for improvement. However, they have much more depth at the position than they have had in a while.