Colorado Avalanche Season is Over with Game 7 OT Loss
The Colorado Avalanche lost Game 7 in sudden-death overtime, which spells the end of their 2019-20 campaign.
The Colorado Avalanche season is over, and I'm sad. And angry. I hate the Dallas Stars and every player on that team with the heat of 1,000 burning suns.
But it doesn't matter. In this strange, COVID-infested world, the favored Stanley-Cup winning team is going home.
I yelled at the screen a lot during this Game 7. I declared my hatred for the Avalanche and used a lot of bad words. It seems like that should make it easier, right? If a team you "hate" loses, that's ok.
It doesn't work that way. When you bleed burgundy and blue, no amount of manufactured hate can erase the disappointment of a playoff exit.
Not disappointment. Anguish. I'm not ashamed to admit I cried. As brave as I was in my apartment, declaring my hate for the Avs, tweeting that Jamie "Knee-Hunter" Benn would get the game-winning goal, the Avs' loss cut me.
It's 3:16 am in UAE right now. I'm lucky. It's a little early to fall into bed in a depressed stupor in Denver, but not so here.
The Colorado Avalanche overcame so much adversity this season. Literally, they played most of the season with key players out of the lineup. And as if that wasn't enough, they had to play this series similarly hindered. In this all-important Game 7, they were missing their captain, their captain of the blueline, their starting goalie, their backup goalie, and their heart-and-soul guy.
Remember when I railed against Avs fans who said during the regular season, "At least we're getting injuries out of the way now"? Yeah, there's no quota. You can be super-injured even in the playoffs.
I could easily list a series of Colorado players I'm irritated with right now. But it doesn't matter, does it? Just the shot of first Nathan MacKinnon's and then Cale Makar's desolate faces makes me not care about the myriad of mistakes made in this game. Moving on.
The Colorado Avalanche season is over, and we're in uncertain times. In this COVID world, we don't know when the 2020-21 season will begin. I personally think it will be a truncated 2021 season.
Which means our "Is it October yet" needs to be amended to, most likely, "Is it January yet?"
This sucks. The Colorado Avalanche had the team to win the Stanley Cup. The Phase 1 pause gave them a chance to be healthy. But it appears fate had different parameters for this strange, historic world we live in.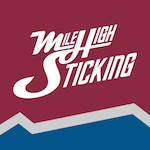 Want your voice heard? Join the Mile High Sticking team!
Write for us!
The Colorado Avalanche are a young and exciting team with some of the most exciting young players in the NHL. Nathan MacKinnon will get his Stanley Cup. It just won't be in this asterisk year.