Colorado Avalanche Draft Profile: Hockey Smart Cole Perfetti
The Colorado Avalanche are sure to be impressed with center Cole Perfetti and his high hockey IQ. Alas, they'll pick much lower than he goes in the 2020 NHL Draft.
The Colorado Avalanche will probably pick a forward in the first round of the 2020 NHL Draft. Except for their two big-name defensemen — Cale Makar and Bowen Byram — they usually favor forwards in the first round.
They might look at a player like center Cole Perfetti. However, he will go long before their low-20s selection.
The forward out of Ontario is known for being undersized — he's just 5-foot-10. However, he has packed 185 pounds onto that frame. He's ranked #5 for North American skaters by NHL's Central Scouting. He's expected to go between #4 to #9.
We haven't heard if the NHL is still considering a June draft. They apparently got a lot of push-back from general managers. Well, whenever they hold the draft, one lucky team is going to select Cole Perfetti.
Cole Perfetti Stats
Perfetti has spent the last two seasons playing in the OHL for the Saginaw Spirit. His first season, he played 63 games and recorded an impressive 74 points (37 goals, 37 assists.)
This last season was far more impressive. It saw him score another 37 goals. However, he earned 74 assists to make a total of 111 points in 61 game.
Last year, he represented Team Canada at the World Hockey Challenge Under-17 tournament. He recorded 9 points (2 goals, 7 assists) in 5 games.
Cole Perfetti Highlights
Scouts overwhelmingly mention what a high hockey IQ Perfetti has. Indeed, they almost seem to prize it more than they do his skills.
Here's is Central Scouting's analysis to that effect:
" He has incredible hockey IQ and a feel for the game, can slow the play down to his pace, draw the attention of every defender and finds a pass no one else in the arena sees coming."
The scouts add that he has the puck skills, too, but that his "vision and execution are on another level." They add:
"He's elusive and can turn on a dime, evading checks and giving himself time and space to utilize his offensive arsenal."
Bill Placzek of DraftSite is so impressed with Perfetti's hockey IQ that he states, "When he steps on the sheet, he easily can be viewed as the smartest player out there." He further adds the following:
"Strong quads and great core strength allow him to make use of his great balance and low center of gravity to take larger players off the puck. Battles hard to win pucks that are contested, and when he wins those battles, he puts his entire weight into his shots adding mustard."
Indeed, he does appear to be a solid young man.
He does seem to have a knack for getting in the right place at the right time.
Colorado Avalanche and Cole Perfetti
This young man has a bright future ahead of him. He's just 18, so he may still grow an inch or two. I think it's impressive he's already got musculature — it's surely a credit to his work ethic.
He would be a fun one to add to the Avalanche. He does seem capable of putting on some speed. He definitely knows how to use his stick. His positioning is excellent.
As we know, though, a downside to having a good record is you have a bad draft pick. That's ok — good draft picks are why the Avs have their good record now.
Cole Perletti will probably go top-10. I imagine he'll spent another year in the OHL before making an NHL debut.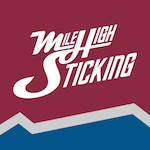 Want your voice heard? Join the Mile High Sticking team!
Write for us!
The Colorado Avalanche would have loved Cole Perfetti, but their scouts are sure to be advising GM Joe Sakic on a worthy depth prospect.