Colorado Avalanche: Pre-Hockey Hiatus Look at Erik Johnson
Colorado Avalanche defenseman Erik Johnson has evolved into just the kind of player the team needs both on defense and as a mentor.
The Colorado Avalanche are well into their second month of the hockey hiatus per the NHL's pause. They're supposed to stay in self-isolation with their families until April 30.
Here in Colorado, safer at home is going to start to replace stay at home orders. We're not going to be as paused as the NHL soon. However, hockey's not returning until this summer at the earliest.
So, we're going to keep taking a look at how players were doing before the hiatus. Here's some of the players we've already looked at:
Today, we're going to look at Girard's big buddy, defenseman Erik Johnson.
Brief History of Erik Johnson
The St. Louis Blues selected Erik Johnson with the first-overall pick in the 2006 NHL Draft. Prior to that, he had been part of the prestigious US National Development Program. He's only the second-ever American-born defenseman to go first-overall in an NHL draft and one of only eight Americans ever to get chosen first.
Johnson spent one year at the University of Minnesota playing for the Golden Gophers. He left his second semester early to attend the World Juniors championship — he's represented the US in numerous tournaments including the 2010 Olympics and the 2016 World Cup of Hockey.
Johnson signed his entry-level contract with the St. Louis Blues in 2007. He played a season there and then suffered an unfortunate injury before the beginning of the 2008-09 season that kept him out the whole year. He spent two more seasons with the Blues until they made a late-night trade on February 19, 2011, that brought Johnson to Colorado.
Including this season, Johnson has spent nine seasons with the Colorado Avalanche. He is the longest-tenured Avalanche player on the current roster. He has been the alternate captain for the last four seasons.
Erik Johnson Stats with the Colorado Avalanche
Erik Johnson played 203 games for the St. Louis Blues. In that time, he recorded 20 goals and 71 assists for 91 points.
Johnson has played 573 games for the Avalanche. He's recorded 60 goals and 152 assists for 212 points. For several years he also led the team in ice time as the top pairing defenseman.
Evaluation of Erik Johnson with the Colorado Avalanche
People always like to say that Erik Johnson never lived up to his potential as a first-overall selection, and they may be right. However, as Alex Tanguay once said, draft selection is based on what you did before — what's important is what you've done after.
This season, Johnson has played 59 games. He has 3 goals and 13 assists, which is maybe not as much as he'd like to have. However, with Cale Makar and Sam Girard taking on more of the offensive role — especially on the power play — Johnson has been tasked with playing a shutdown role.
Johnson has a keen eye for the game. He's responsible defensively. He makes the occasional gaffe as any player does, but I feel confident whenever he's on the ice.
What's more, as he's now a veteran on the team — he turned 32 last month — he's taking on an important role as a mentor. He immediately took Girard under his wing when the defenseman was traded here. And he's done the same with his new defensive charge, Makar — Cale even mentioned him as being a mentor. I'm confident he'll do the same when Bo Byram joins the team.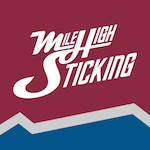 Want your voice heard? Join the Mile High Sticking team!
Write for us!
Over the years, Erik Johnson has evolved from what some people called a disappointment to exactly what the team needs. (To be clear — I never was disappointed in Johnson.) And ideally, isn't that what you want a player to be — exactly what the team needs?