Colorado Avalanche: Who Will the Seattle Kraken Choose?
The Colorado Avalanche are likely to lose either Joonas Donskoi or JT Compher in the expansion draft to the Seattle Kraken. Which player will the new team choose?
The Colorado Avalanche are a few hours away from losing a good player to the expansion Seattle Kraken. The expansion draft takes place tonight at 6 PM MDT.
At the end of the day, Seattle will have 30 players on their roster. They will choose from 30 of the 31 available teams. Annoyingly, despite their continued success, the Vegas Golden Knights don't have to pony up a player.
In any case, some big names are available to the Kraken. These include pending UFA Alex Ovechkin, Carey Price (what?), and former Av Matt Duchene (oops). The list also includes Avalanche captain Gabriel Landeskog, though reports such as from Elliotte Friedman claim the team didn't reach an agreement with him.
So, the Avs are unlikely to lose captain Landeskog to the Kraken. He could still walk in free agency, but I doubt that will happen.
That leaves the question of who the Seattle Kraken will choose from the Avalanche. Prior to the trade that sent defenseman Ryan Graves to the New Jersey Devils a week ago, he was the popular choice to be heading west.
The current popular choice is Joonas Donskoi, whom the Avs acquired in free agency two summers ago. Indeed, erstwhile Avs reporter — who has since jumped ship to the Kraken — Ryan S. Clark, is reporting exactly that:
Donskoi is a solid bottom-six player who can step up into a bigger role when necessary. However, at the age of 29, he's also a player who's reached the maximum level he will ever achieve, most likely. And he's probably reached his highest salary — $3.9 million over the next two seasons.
I personally think the Kraken will give J.T. Compher a think. He's younger than Donskoi by three years, so he could be a player who benefits from a change of scenery. He's also cheaper by $400,000, which might not be a consideration for a brand new team. However, I feel Compher has a little more life in him than Donskoi, especially for the duration of his contract — also an additional two years.
Those two are the main players Seattle are likely to consider. Of the two, I'd rather lose Donskoi. He relieves more cap space, and the Colorado Avalanche get to keep the younger player.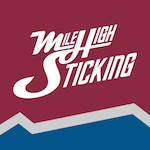 Want your voice heard? Join the Mile High Sticking team!
Write for us!
Well, after this evening, the NHL will be an even league again with 32 teams in the league. It still burns me that the very successful Vegas Golden Knights don't have to cough up a player. I already like the Kraken better than them.