Colorado Avalanche in Midst of League That Doesn't Care About Its Fans
The Colorado Avalanche, like the rest of the league, are in the NHL offseason. Multiple scandals hover over the NHL, including the Chicago Blackhawks' sexual abuse allegations. And the NHL is hoping you're dumb enough to forget, and it will go away. It won't.
On Monday night's Hockey Night in Canada broadcast, NHL commissioner Gary Bettman proudly sat with Ron MacLean, as he has the last few Stanley Cup Finals.
The second I heard it, I thought to myself. What's he going to say? Is he going to talk about it? Is Ron going to talk about it?
The it being the Chicago Blackhawks' former video coach Brad Aldrich's sexual abuse allegations, that several players have claimed happened in the run to the 2010 Stanley Cup, and that "everyone knew." For the last few weeks, almost everybody has been a mix of curious and disgusted — irritated at a ten-year-old coverup, or the fact that several names that were either complicit or possibly complicit in said coverup — Stan Bowman, Kevin Chevaldayoff, Marc Bergevin — were prominent names in the hockey world.
Instead of the longtime host using his power to question the commissioner, an interview which according to former THN writer Ken Campbell had"no restrictions," the next five minutes were spent talking about.
Nothing.
No, really, nothing.
If there's anything hockey fans have learned during the playoffs, it's that the NHL thinks you're all gullible idiots that will eat up any carefully-written treats it gives out.
Whether it be the hilariously bad and inconsistent refereeing, a Department of Player Safety that is led by a man who was once a partner in a t-shirt brand called Violent Gentleman, and would be better off spinning a roulette wheel in giving rulings, or the Blackhawks scandal, there was a lot for MacLean to ask about.
Instead we got three softball questions about an Olympics nobody wants, a minute of a centenarian hockey fan who honoured a long-demolished arena, and a memorial to former Leafs GM and NHL executive Jim Gregory who passed away nearly two years ago. And we got Bettman, ever backing this clown, defending a refereeing that is very, very bad.
Once Ron MacLean finished pleasantries and congratulating Bettman for being who he is, I got to thinking. Who was fooled by this? Why did the NHL think anybody would be fooled by this?
Nazem Kadri deserved to be suspended for multiple games. There's no question at all.
Kadri and the Colorado Avalanche watched as Max Pacioretty, and later Ryan Reaves attacked multiple players, with the latter grabbing Ryan Greaves' hair and slamming him on the ice. It was a move, one game in, that changed the direction of the series, one that saw Pacioretty get off scot-free and Reaves only miss three games. The Avs, in the meanwhile, fell apart, partly for different reasons.
It was a move, following an earlier ruling of Tom Wilson, that had fans throwing their hands up in the air. Where's these decisions coming from? What basis does the NHL care about its players? What difference does Kadri have from Wilson?
The NHL never made any of this clear, and throughout the playoffs, more fans saw the dangerous inconsistency and lack of care for players' safety.
Guess what? They don't care.
Let's see what Colin Campbell, one-time player and coach, and NHL executive for what seems like a billion years, has to say about player safety.
Did you read it?
Read it again.
First: holy smokes. Second: yikes. Third: imagine being so dense that you'd write that out in an email, on public record, with enough bravado that you'd think, "of course. This is the absolute greatest thing to come out of my mouth, I'm an absolute genius. Colin, you've done it again!"
Both Campbell and King have been executives for eons, in the NHL's dumbed rotation of jobs, where nothing seems to change. This is a former player, coach and current executive, who has been in professional hockey in some form for nearly half a century, shrinking concussions and player safety into "every little boo-hoo that happens on the ice."
Then there's the real side: Rick Westhead's spellbounding story, later book on former NHLer Joe Murphy, from where the above quote comes from. The NHL, and NHLPA, turned Murphy away post-retirement since he wasn't their problem anymore. Back in 2018, Westhead made waves when he revealed Murphy's current situation, one certainly not helped by the NHL and NHLPA's blind eye to player safety.
It's a dangerous pattern that's repeating itself with the Blackhawks scandal: a league that is sweeping, and has swept for the last decade, this under the rug, a media who does what its league says and is equally complicit, and fans that make excuses. "It wasn't as bad." "They're overreacting."
And that's what you're getting in the midst of ambiguity. When you have multiple players and people involved with the team claiming "every guy on the team knew about it," there's zero room for batty excuses. Take former Colorado Avalanche forward Matthew Barnaby, who says Bergevin couldn't have known! They're pals!
Hold your horses, Matt. I'm sure Bergevin is a nice guy. Wait and see if, you know, he's complicit of covering up sexual assault.
It's defending people who, in some capacity, may have been complicit (Bergevin was Director of Player Personnel for the Blackhawks in 2009-10, and assistant GM after, so it would be massively incompetent for him to not be aware) that puts people who needed to do something in the area of completely not at fault. Correct, skills coach Paul Vincent only named a few executives — including GM Stan Bowman and team president John McDonough — at a meeting that happened in May 2010. But "everyone knew" and "I didn't know anything" are opposite stories and the latter goes well with the "team first" attitude.
Let's talk about the "team first" attitude. Nick Leddy wasn't on the team that season. But he sure had some nice things to say about a team that covered up the sexual abuse of possible teammates:
And then there's Jonathan Toews. It's uncomfortable, because by all accounts, Toews is a good guy. He's been a future Hall of Fame forward and captain for the Blackhawks for the last decade, and he went through his own struggles this season. Toews claims he didn't know, as detailed by Rick Morrissey of the Chicago Sun-Times, until whispers spread the following season, which even still, is pretty ridiculous to hold in.
Why did Toews not say anything? Why is Toews protecting the organization?
If it's the system that's putting Toews, Bergevin and countless others to have to choose between their career in the NHL, and being ostracized for speaking against immoral things, it's a damaged system.
The Stanley Cup Playoffs are over, Tampa Bay has the Stanley Cup, and the offseason is among us. There's an organization that spent a decade covering up abuse of its players, a league that ignores what fans want, and knows it can get away with it, and a media that for the most part ignores the real stories and lets the league do what they want. Actual discipline is put aside for "DA HOCKEY CODE."
They literally hired a teenager on a corrupt app, who has a podcast called "BFFs" with a 44-year-old associated with misogyny, homophobia, and rape jokes, to be the NHL's "voice of the fans."
After hearing the same excuses, the same ignorance, the same absolute maddening garbage, it's clear the NHL thinks you're a gullible idiot. As Ron MacLean and Gary Bettman smile and ask each other how great it is to be the other, they laugh at you. You're a fool.
You're an idiot that's going to keep buying the product and the NHL can come up with any lie it wants and you're going to be angry for a bit then forget about it.
You get so many people telling you: "it's the game."
"That's hockey."
"That's just the sport, there's no changing it."
That's bull.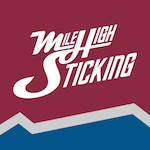 Want your voice heard? Join the Mile High Sticking team!
Write for us!
Hockey can be played without all this bull.
There's room for a culture that isn't centred on turning the other way. The NHL's fans are vocal. They're not the idiots the NHL takes them for.