Colorado Avalanche: How Good is Alex Newhook Going to Be?
Colorado Avalanche rookie Alex Newhook has shown he has the potential to be a great asset to the team for many years to come.
The Colorado Avalanche selected forward Alex Newhook with the #16-overall slot in the 2019 NHL Draft, a draft that saw a team on the brink do extremely well. Since then, the team has traversed that brink, and Newhook is just getting ready to join in the fun.
No, this post isn't a couple months too late. Newhook made his NHL debut on May 5 against the San Jose Sharks. He recorded his first NHL point in the very next game, an assist against the LA Kings. He topped that with his first multi-point night with two assists against the Vegas Golden Knights.
And, of course, he recorded his first NHL goal in the first round, Game 3 against the St. Louis Blues. Let's appreciate that goal for a moment:
Not only did he score his first NHL goal in the playoffs, it just so happened to be the game winner. Talking about making a splash!
And that splash perhaps gives us a little glimpse into the future of the Avalanche's prospect. You start first with his electric skating and the way he confidently drove into the zone. He made a little move that faked the defender and passed. After Blues goalie Jordan Binnington made the save, Newhook put himself into perfect position to accept the rebound and shoot the puck into the wide-open net.
So, with that first goal, we see Newhook's skating ability, which is as elite as promised. We see a young player who's assured of himself even in high-pressure situations, which tells us a lot about his make up. We see his abilities to make plays and see the ice well. And we see that he can finish.
All of those are skills that work especially well in Colorado's high-octane style of play.
Newhook spent two years in the BCHL. While he dominated both years, his second season in the BCHL, which is below major juniors, may have hurt his stock for draft eligibility. Not that 102 points (38 goals, 64 assists in 53 games) is shabby, but the BCHL isn't as tough a league as, say, the WHL or OHL. So, while Newhook started out as a top-10, and even top-three at one point, prospect early in his career, he went to the 2019 NHL draft as a top-15 prospect.
And he slid just enough to slide into the Colorado Avalanche organization at #16. Hopefully being on a Cup-contending team is solace for not having gone top-10 or even top-15.
For Colorado, that small slide has the potential to be a gold mine. Newhook spent two seasons playing for Boston College in the NCAA, and he exceeded a point-a-game in both years. After completing his second collegiate season, he was ready to go pro.
You can never tell exactly how well a prospect is going to do. However, Newhook jumped right into the hot water of first a playoff-bound team and then the playoffs themselves. Granted, he didn't make a huge impact the last handful of games that saw Colorado bounce in the second round, but a team as stacked as Colorado was never looking to the rookie to save them.
An unpopular opinion (mine) is that the Avalanche have been looking for a number-two center ever since they traded Matt Duchene away in 2017. We've had various options with varying results. The current number-two center is Nazem Kadri, a very good player who does help the team provide an adequate one-two punch at the position.
However, Colorado has been looking for a more dynamic duo, one that has the potential to last a few years. The Avs' number-one, Nathan MacKinnon, may have finished his ninth NHL season, but he's just in his prime at the age of 25. This is a man who has the potential to be at the very peak of his game for five years or more.
Kadri, at 30, isn't going to provide that same punch for so many years. He's got one more year on his contract. Would that be enough time for Newhook to mature into an electric number-two center? Because I believe that's the role he's eventually meant to play.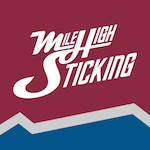 Want your voice heard? Join the Mile High Sticking team!
Write for us!
Colorado Avalanche fans will have a lot of fun watching Alex Newhook's development next season. Even if he's not the de facto heir apparent to Kadri, I think his potential to eventually take on that mantle should maintain our excitement in the team.