Colorado Avalanche: Choosing Fringe Players to Protect
The Colorado Avalanche will likely lose one of these fringe players to the Seattle Kraken in the expansion draft.
The Colorado Avalanche are going to lose a good player to the Seattle Kraken. The last time the team lost a player was when the Vegas Golden Knights selected goalie Calvin Pickard, only to throw him away in trade a few weeks later. (It was an action that clued me in to the fact I probably wouldn't like the new team too much.)
It was a disappointing loss. The Avalanche were coming off that dreadful 48-point season when it felt like they had little enough to lose as it was. This year will be a similar kind of disappointment in that the team is coming off an amazing season followed by a postseason that fizzled out.
In any case, the team has a while yet to submit their protected list to the NHL — most likely July 17. They have the chance to protect seven forwards, three defensemen, and a goalie or eight skaters and a goalie. The team would go the latter route if they wanted to protect a fourth defenseman, which could be a possibility.
We know they'll protect the big names. However, such protection leaves four players on the fringe of either list: Tyson Jost, Ryan Graves, J.T. Compher, and Joonas Donskoi.
Tyson Jost
Just a year ago, Jost was offered a bridge "show-me" contract for just one year. It was speculated widely that his days with the Colorado Avalanche were numbered, and he'd be exposed in the expansion draft.
Then Tyson had himself a year. He didn't put up big offensive numbers as it was expected of him in previous years. Instead, he followed the coaching staff's directives and turned his game completely around. He became a solid and dependable defensive forward, someone the coaches could put into many difficult situations.
As such, he may have earned himself a spot on the protected list if the team opts for the 7-3-1 split.
JT Compher
Just a year ago, JT Compher seemed to be the team's golden boy of the third line. He hasn't bottomed out, but he does seem to have leveled out. It looks like the team has gotten as much as it can from his ceiling.
That ceiling is far from bad. Compher was a bit inconsistent throughout the season and postseason. Unfortunately, he doesn't have quite the same excuse of youth that Jost did since he's a little older and so striding into his prime.
That said, Compher is still an asset to the team, especially on the the defensive end. He's a second option for the seventh-forward protection list.
Joonas Donskoi
If Compher is reaching his plateau, Joonas Donskoi is solidly on his. He's 29 years old, and has seen six years' worth of action in the NHL. Players can have career seasons at any time, but you don't expect a Joonas Donskoi to be trending up.
That said, he's a very serviceable third-line forward who can transition to the second line when needed. He has value to the team. However, it would be hard to protect a 29-year-old over a 26-year-old (Compher) or 23-year-old (Jost) with similar abilities.
Ryan Graves
Cale Makar and Sam Girard will make it onto any list. Most likely Devon Toews would, too. That leaves Ryan Graves the odd-man out in a 7-3-1 split.
A year ago, no question the Colorado Avalanche would have been tempted to go the eight-man route to protect Ryan Graves. He was coming off a stellar season in which he led the NHL in plus/minus ratings — something no one could stop talking about.
This season hasn't been so stellar for him. By choosing the eight-man route, Colorado would have to keep all three of the above players exposed as well as someone like Val Nichushkin. Unfortunately, Graves my be wearing Seattle colors, soon.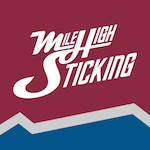 Want your voice heard? Join the Mile High Sticking team!
Write for us!
As noted, the Colorado Avalanche are going to lose a good player in the expansion draft. That player's name is likely in the above list. It stings to lose a player that has been an asset to the team, but that's the nature of the expansion draft.