Colorado Avalanche: 3 Moves the Team Could Make in the Offseason
The Colorado Avalanche might make some offseason moves to shake up a team that should be heading to the Cup Finals.
The Colorado Avalanche have been golfing for a couple weeks now. It doesn't sting quite that much to think of the ignominious end to their season any more. Especially since the nemesis Vegas Golden Knights have also been sent to the golf course.
The dust has settled on what the postseason should have looked like for the Avalanche, and now it's time to consider the offseason. After the team GM Joe Sakic assembled for last season, and with how key players played in the regular season, "There's always next year" just sounds too hollow to offer consolation.
The cold hard truth is that Colorado probably has to do some tweaking this offseason. Maybe more than a little. They fell short of the prize, and great teams acknowledge that's unacceptable. They will have to adapt.
The most obvious big move would have been to fire the coach. I don't think most of the blame falls on his shoulders. However, the team seemed to lack leadership and fire. Those qualities have to at least partially come from the coach.
For better or worse, however, the team has announced that Bednar will return next season. That means the team has to look at its players if it wants to improve. So, let's consider some moves they might make.
Trade the Captain
Let me be perfectly clear: This option is 100% unacceptable to me. However, leadership and fire — those essential qualities the team were lacking in the second round — also come from the captain. I think Gabriel Landeskog is a fine, fine captain, but somehow those two qualities didn't come through when they were needed most.
Landeskog becomes an unrestricted free agent on July 28. There's no question the team intends to do a deal with him, likely a juicy one. However, they could call "cap space," trade his rights to a team desperate for leadership and skill, and get back a draft pick or some prospects.
It's a stupid idea, and I hate it. But, it's a consideration that's been floated out there.
Deal with Seattle
The Expansion Draft is on July 21. Teams can only protect so many players, and the Colorado Avalanche are going to have to expose some good players. It's thought J.T. Compher or Ryan Graves could be exposed, and we'd hate to lose either of them.
Colorado could offer prospects or draft picks to protect one of those players. Conversely, they could trade one of those players to get a big contract off their books and get their signings done. The obvious target would be alternate captain Erik Johnsons, who would have to waive his no-trade clause.
Thanks, I hate that one too. Moving on.
Let the Goalie Walk
Goalie Philipp Grubauer was a brick wall, until the mortar crumbled and some bricks came tumbling down. In the last three games, he didn't make some key saves he should have. He didn't bail the team out when they kept needing him.
That's not to say Grubauer isn't a fantastic goalie. After the season he had, he's a finalist for the Vezina Trophy. However, is he the goalie to take the Avalanche to Stanley Cup victory?
So far, it doesn't look like it. However, another Vezina finalist, and one who has backstopped two teams to the the ultimate victory is rumored to be on the trade block. Vegas coach Peter DeBoer made the asinine mistake of trying to run a goalie tandem in the playoffs, and now it's rumored Marc-Andre Fleury might be traded.
He's only got a year left on his contract. He's 36. But he could just have the same kind of fire Patrick Roy showed when he got traded. It could be just the move to push Colorado over the edge.
This is my favorite of the three.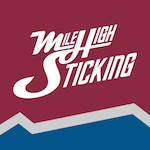 Want your voice heard? Join the Mile High Sticking team!
Write for us!
The Colorado Avalanche are unlikely to make any huge moves. Obviously, they're still a powerhouse of a team. But they need to make some adjustments if they want to win that ultimate prize.