Colorado Avalanche Topple Golden Knights 7-1, Despite Idiocy
The Colorado Avalanche thrashed the Vegas Golden Knights 7-1, and they did it with a little help from nearly a period's worth of penalties, and despite cheap shots and Ryan Reave literally trying to kill someone. Here's a grab bag of all the chaos.
Let's start by saying I hope Ryan Reaves never plays another game again this season.
I hope Pacioretty never plays another game this season.
I hope DeBoer gets banned from coaching for life.
And the Avalanche are amazing.
What can you say about that game? Nathan MacKinnon was Nathan MacKinnon, every key player came alive, Mikko Rantanen started the scoring with a backhand goal.
Really, if only the opposing team decided to play hockey instead of trying to injure the Avalanche players, there might have been some competition.
There was a lot to unpack this game, but 7-1 win to start? Hell yeah.
Playoff MacKinnon
Playoff MacKinnon is the best player in the NHL.
Every time MacKinnon has the puck, you can see he's miles above every other player on the ice. It's honestly terrifying, and it led to two goals for the Colorado Avalanche. There's an awareness of where the puck is going, and in his second goal, he nearly effortlessly brought it to the back of the net with zero hesitation.
He's my Conn Smythe pick.
Vegas Golden Goons
NBC spent a good time sucking up to the Vegas Golden Knights, showing Marc-Andre Fleury on the bench, and praising them infinite times.
You'd think the Golden Knights were a bunch of innocent guys, except for the fact that two of them tried to injure Sam Girard and Ryan Graves.
By all accounts, Ryan Reaves seems like an okay guy off the ice. He's brought on a lot of kayfabe, personality, he's done a lot for diversity in the NHL. On the ice, the guy is an idiot, and one that could have really hurt Graves.
I get Graves hit Mattias Janmark. The "hockey code" is all about revenge. But that is absolute bull if the league doesn't give more games than Kadri got, if not the rest of the playoffs. There's a precedent that should be maintained, and letting players grab other players by the neck and punching them in the back of the head is absolutely ridiculous.
Max Pacioretty also got into the fun earlier in the game, going for Sam Girard's head, a call that was initially given as high sticking. There was intent, but yet the refs pushed it aside. Hooray.
Like Craig Berube last round, Pete DeBoer basically gave up, and let his team play the "injure all their players" method for the rest of the game. Great job! Maybe DeBoer can coach in some goon league, but keep that outside the NHL, perhaps?
And of course, let's not forget William Carrier's tackle on Graves that led to Landeskog's second goal. Thanks Carrier!
NBC Loves Vegas
Did you hear the part where NBC talked about Vegas? All 60 minutes of the game? About how great Vegas is, and how Vegas went to seven games, and Vegas Vegas Vegas, did you?
I really can't wait until the NHL comes on ESPN and TNT.
Landeskog, Makar With Big Contributions
We've touched on Playoff MacKinnon. Did you know Playoff Makar was a thing?
After all the chaos in the third period, on the Avs' 9-minute powerplay (thanks Vegas!), Cale Makar, already with 3 assists to his name, added a goal from a fantastic Tyson Jost setup (need I go on about Playoff Jost).
And then there's Gabriel Landeskog, who took a fantastic pass across the ice to set the captain up for the second goal of the game. Landeskog would add a later powerplay goal from Rantanen, setting Landeskog up for a one-timer immediately in front of the net.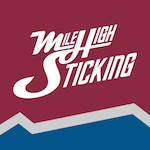 Want your voice heard? Join the Mile High Sticking team!
Write for us!
Game 2 Preview
Hopefully the Vegas Golden Knights will be without Ryan Reaves and Max Pacioretty next game, but either way, the Avs have the Golden Knights' number. They overpowered them the entire game, and as we saw with St. Louis, there's no reason they can't do it again.
So Avs fans? Celebrate. Drink. Everything. Lots of wine. Like Johnny Liles would want you to.