Colorado Avalanche: Longtime Referee Tim Peel No Longer to Officiate
Colorado Avalanche officiating will be minus referee Tim Peel after the official was recorded admitting he made a make-up call.
The Colorado Avalanche will not have referee Tim Peel to officiate their games anymore. As has been widely reported, the referee will no longer be allowed to work NHL games after a comment he made was caught by a "hot mic."
Peel was officiating the Tuesday Nashville Predators-Detroit Red Wings game Tuesday night. He stood too close to an ice effects microphone while chatting with fellow referee Kelly Sutherland. Peel had just assessed Nashville forward Viktor Arvidsson a tripping penalty five minutes into the second period.
The quote caught on the mic is the following:
"It wasn't much, but I wanted to get a (expletive) penalty against Nashville early in the,"
Here's video from the game:
Awkward. His voice is almost as loud and clear as the announcer's so there's no question what he was saying.
The NHL took swift action and announced that, to maintain the integrity of the game, Peel would no longer work games. He was set to retire in a month.
The incident has brought about a discussion concerning game management. It has long been acknowledged tacitly that refs will assess "makeup calls." These calls come if they missed something egregious earlier or if a team has had several penalties in a row. They also happen if a referee wants to cool a team down — he might tell two players itching to fight that, if they do, he'll assess just one of them an extra penalty.
Does that kind of situation maintain the "integrity" of the game? To the word of the law, of course not. But referees are human and make mistakes. Why shouldn't they assess a later call if they missed one earlier?
Unfortunately, as we've all seen, officiating can affect the outcome of the game. The Colorado Avalanche have been on both sides of that quandary — we in Avs Nation know exactly what I'm referring to if I say, "Gabriel Landeskog was NOT offside!!!!!"
So, a deliberately soft call could actually affect a team's future. Why would a referee want to do that? Well, Carolina Hurricanes coach Rod Brind'amour thought the following:
"Watch what happens at the end of games. It seems to always get a power play, the team that's behind. I think it's just human nature. It's hard. I know they're not trying to do that. I don't believe that that's how they go about it. It's just human nature to maybe look for the team that's down, but it seems to happen all the time."
That scenario has haopened to the Colorado Avalanche a lot of times, in a bad way. They'll be leading late in the third and suddenly be assessed a penalty.
Is it really just because the referee "feels bad" for the losing team? Might not some teams get a pass while others get scrutinized? For example, Brind'amour might like to see referee Brian Pochmara on the ice because the Hurricanes had a 5-1 record with him last season.
The Avs enjoyed a 3-0 record last season with Jean Hebert refereeing and a 5-0 with Jake Brenk officiating. Ian Walsh and his 0-5, on the other hand, is something we can do without. (All stats from Scouting the Refs)
Get ready, Avs fans, to roll your eyes into the back of your heads because I'm going to quote former Avalanche Matt Duchene:
"Imagine the scenario where they score on that power play, we lose the game and we miss the playoffs by a point? Imagine that scenario. That could happen. That is not out of the realm of possibility. I don't think there's a place in hockey for that. You gotta call the game. I've always been frustrated when I see even-up calls or something like that. If one team is earning power plays you can't punish them because the other team is not."
He has a point. In fact, going back to the Landeskog offside call, which was softer than a chinchilla, it absolutely cost Colorado Game 7 of the playoffs!
I don't have a problem with makeup calls when a referee missed something egregious or made a soft call on one team so makes a soft call on the other. That's like if you're sharing a piece of cake — you try to make sure both parties get equal cake and frosting.
However, referees should not try and otherwise handle the flow of the game. It goes how it goes. The referee is just there to make sure nothing too bad happens.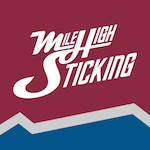 Want your voice heard? Join the Mile High Sticking team!
Write for us!
The Colorado Avalanche are actually going to miss Tim Peel. The perception has been that the official often made soft calls against the team. However, they've gone 8-4 under him the last three seasons.