Colorado Avalanche Back in Playoff Race
The Colorado Avalanche have used recent wins to climb back up in the standings, where we all believe they belong.
The Colorado Avalanche haven't exactly looked like a dominant team this season, and that has puzzled fans and pundits alike. The team is built to win with great depth. And they say their motto is essentially Stanley Cup or bust.
Through short stretches and certain games, they have looked like the team who started the season as the Cup favorites. However, they've also come out flat for periods and even whole games. They've lost badly to teams whom they should have dominated.
Indeed, just two weeks ago they were sixth in their division. Sixth! Teams like the Arizona Coyotes and LA Kings were above them in the standings! Sure, they had games in hand, but it's not what most of us expected 16 games into a truncated season.
Well, luckily the Avalanche used those games in hand mostly to good effect. They enjoyed a decisive victory yesterday evening against the San Jose Sharks. Having gone 3-1 in the four games since they were in sixth place, they've now climbed in the standings — all the way up to third. Now only Vegas and St. Louis are ahead of them, and we always knew they were our toughest competition.
What's more, they're only three points behind the Blues with three games in hand. As far as the Knights go… well, they have a game in hand and they're four points ahead of Colorado. They look good this year.
The Colorado Avalanche have a make-it-or-break-it stretch coming up. They start of with a back-to-back against Anaheim this weekend. They then play pretty much every other day until they face Arizona back-to-back at the end of the month.
It's a brutal schedule. But there are a lot of points up for grabs, so they have the opportunity to get even farther ahead. If they play up to their potential, there's no reason to think they can't take over St Louis. Heck, they might give Vegas a run for their money for top of the division.
A couple notes…
Nathan MacKinnon Injury
Superstar Nathan MacKinnon left the game early thanks to a hit in the head. Almost midway through the third period, he was playing the puck. Sharks player Joachim Blichfeld skated in on his blind side and hit him right in the jaw with his shoulder.
MacKinnon was slow to get up, clearly shook up. Blichfield received a match penalty, as he should have. No word yet on whether the Department of Player Safety will be looking at that hit. They should. The NHL can't let role players go around targeting stars — that's not what the current NHL is supposed to be about.
Luckily, we may have dodged a bullet. Early word on MacKinnon is that he's "doing ok." Hopefully he won't have to miss any games.
Passionate Fans
Needless to say, I follow a lot of Avs fans accounts on social media. Usually Twitter gets me riled up, but recently it's been Facebook fans.
According to some Facebook Avs fans, only cheerleaders are real fans. You're not allowed to criticize you're favorite team. Otherwise, you're fairweather fans.
That's actually not the meaning of that idiom, but we'll set that aside for now.
For many of us fans, hockey is a passion project. Our emotions are deeply tied into the team's success. So, when they're doing poorly — especially if we know they should be doing better — we get vocal.
I don't think there's ever a reason to call for anyone's head. However, our passion doesn't make us any less fans. Remember how I used to always chew on Tyson Barrie? And he almost always went and scored in the next game and I loved him again? That's true fanship just as much as saying "Tyson Barrie can do no wrong."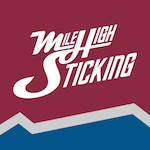 Want your voice heard? Join the Mile High Sticking team!
Write for us!
Anyway, shout out to all the Colorado Avalanche fans who traveled out to Arizona to see the team in Gila River Arena. The 'Yotes are allowing some fans into the building, and Avs fans made like Hawks fans and traveled to see their team. The players said they really enjoyed the experience.