Colorado Avalanche: Expectations for Nathan MacKinnon
Colorado Avalanche superstar Nathan MacKinnon could very well have another career season, which bodes well for the team.
Colorado Avalanche superstar Nathan MacKinnon is about to begin his eighth year with the team. He's just 25, but he's already played 525 regular season and 40 playoff games with Colorado.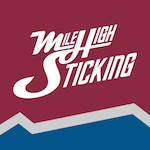 Want your voice heard? Join the Mile High Sticking team!
Write for us!
MacKinnon started out his NHL career with a Calder Trophy season. However, he was up and down for the next few seasons. Then during the 2017-18 season, a switch seemed to go off in his head and he finally grew into the superstar and team cornerstone we all expected when the Avs chose him first-overall in 2013.
That season, he had a career-best for goals (39), assists (58), and overall points (97). That was also the first season he cracked the 30-goal mark.
The following season, he beat his career-best for goals with 41 and overall points with 99 — just one shy of that elusive 100! He matched his career-best in assists. Naturally, that season marked the first he cracked the 40-goal mark.
Last season, he was on-track for even more impressive stats. He looked good to best himself in all categories. However, he was injured right before the regular season ended because of the COVID pandemic. So, he finished with 35 goals and 58 assists for 93 points in 69 games.
MacKinnon hasn't been a slouch in the playoffs either. His first season saw him play seven playoff games, earning two goals and eight assists. During the 2017-18 playoffs, he got three goals and three assists in six games. Those were the playoffs the Avs barely made.
The next two playoffs saw MacKinnon continue to improve. In 12 games during the 2018-19 playoffs, he earned six goals and seven assists for 13 points in 12 games. In the COVID bubble, he exploded with offense this year. He earned nine goals and 16 assists for 25 points in 15 games.
MacKinnon was twice nominated for the Hart Trophy for team MVP. We all know he should have won at least once if not both times. But he was robbed.
That robbery doesn't change the fact that MacKinnon is, in fact, the Colorado Avalanche's best player. The team goes as MacKinnon goes. That's not to say Colorado can't win without MacKinnon. After all, GM Joe Sakic, et al, have done wonders to surround MacKinnon with high-end talent.
However, we here in Avs Nation know that MacKinnon is simply a special player. When he's on his game, he's downright electric on the ice. Fans are on the edge of their seats — both for and against — whenever he has the puck. And he can make defenders look silly.
So, I go back to some basic numbers. MacKinnon may be entering his eighth pro season, but he's just 25. He is just striding into his prime.
What is the expectation, then, for Nathan MacKinnon this season. I think we all expect him to continue to be the team MVP. I don't see any reason — as long as (fingers crossed) he stays healthy — he can't continue his trend of having career seasons. He could very well crack that 100-point mark. Or the 56-game equivalent of it anyway.
And, as I noted, the Avalanche have some other premium talent on the team. If MacKinnon is as good as he can be, then Colorado can go far.
All the way, in fact. As the man himself observed, the Colorado Avalanche are "the favorites or whatever" to win the Stanley Cup. We all know that, with his hyper-competitive spirit, he'll do more than his part to that end.