Obscure Colorado Avalanche Series: Chris Durno
In the second instalment of an offseason series, Mile High Sticking takes a deep dive into the 25-year history of the Colorado Avalanche, and celebrates the most obscure, brief, and forgotten players. In this edition, we remember the brief stint of minor league call-up Chris Durno.
There's been many players who have come through the Colorado Avalanche system.
Some are coveted prospects, who slowly made their way on the Avs lineup. Others are supposed to be constant NHLers, but fall into obscurity, or get traded. Then there's the third category. Career minor leaguers.
It's not terrible to be a career minor leaguer, hell, they're all talented enough to have made it that far. Some of them, like Bryan Helmer or Tim Tookey, made a career of being really, really good in the AHL. Some of them get moved around from team to team, in the hope that one system can make them a regular NHLer. The Avalanche had a host of them. They still do, but they used to too.
This is the story of Chris Durno.
How He Got Here
A college hockey player at Michigan Tech, Durno was undrafted, opting to spend three seasons with the ECHL's Gwinnett Gladiators, getting half a season with the AHL's San Antonio Rampage. Durno finally got a green light, when the Chicago Blackhawks invited him to training camp, eventually being signed and assigned to the AHL.
Shuffled around in the Anaheim and Nashville systems, Durno put up a respectable 49 points in 80 games with the Rampage in 2008. At 27, this was a very good upside, and the Avalanche, never one to pass up a winger, signed Durno to a one-year-deal.
The Stint
Durno started 2008-09 with the Lake Erie Monsters (remember when they used to call themselves that), leading in scoring with 19 points by the end of December. Hindered by injuries, the Avalanche called Durno up to travel with them for a game in Phoenix. A month later, they would call him up again to sub for Philippe Dupuis, in a home game against Calgary, for what would finally be his first NHL game.
Playing nearly 8 minutes, Durno would play a little of the next game against Los Angeles, before finishing the season down in Cleveland.
Having finished as one of the Monsters' top scorers, Durno re-signed with the Avs, hoping to get more exposure for 2009-10. He got a call-up early in the season, getting his first NHL point in a 6-4 loss against Edmonton, following it a month later with his first goal against Alex Auld and the Dallas Stars. Durno established himself as a scrappy fourth liner, splitting the season with the Monsters, but finishing with 4 goals and 8 points, as well as 47 penalty minutes. He would also play a game of the Avs/Sharks first round series, notching 6 minutes of ice time in a 2-1 OT loss. It would be his last in an Avs uniform.
Did It Work?
Not everybody makes the NHL.
Chris Durno managed to play parts of two seasons, becoming an oft-regular in his second season on the Avalanche roster. Approaching 30, he had reached his upside as an NHL player, and with a list of players ready to break out in the Avs system, Durno was expendable, and the Avs opted not to offer him another contract.
Again, Durno would float around in different systems, managing to occasionally show up in pre-season or minor league brawls, but never again playing a regular season NHL game. After leaving Carolina's system, his search for a minor league roster would pause with the NHL lockout, eventually playing a season in Italy before retiring.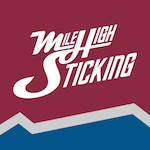 Want your voice heard? Join the Mile High Sticking team!
Write for us!
Final Thoughts
The main reason for posting this was to share one of my favourite Down Goes Brown articles. And you know, reminiscing about the Avs and an obscure winger they called up. It can be both. Shut up.
You see, at a Leafs/Blackhawks game in 1989 which featured a bizarre line brawl that saw Denis Savard and Wendel Clark at the centre, DGB notes a certain cameo:
In the middle of Leeman and Savard's dance of futility, the camera pans by a young hockey fan wearing a #8 Leafs jersey that reads "Durno". This begs two questions: how bad were the camera angles in Maple Leaf Gardens that a small child could block them, and what the heck is a "Durno"? Stay with me, I'm going somewhere with this.

Since nobody by that name ever played for the Leafs, I'm going to assume it's the kid's name. A few minutes of google research reveals a journeyman minor leaguer named Chris Durno, who at the age of 28 finally made his NHL debut this year by playing two games for the Avalanche. Chris Durno grew up in Scarborough, would have been nine years old when this game was played, and according to this interview he always wore #8 when he was growing up.

You know what? I'm going to go ahead and make the claim that that's future NHLer Chris Durno blocking the camera in the middle of this fight!
A commenter confirms it is indeed Durno. How great is that? How many Avs call-ups, let alone stars, can make that claim? In 43 games, nothing can compare to this moment. Someone check all the brawls, and see how many former Avs were there. Was Ryan Stoa at the Vernon/Roy fight?