Colorado Avalanche: Pre-Hockey Hiatus Look at Mikko Rantanen
The Colorado Avalanche have an elite scoring winger in Mikko Rantenen, even if he hasn't had quite the season he'd like.
The Colorado Avalanche, and NHL as a whole, have passed the two-month mark of self-quarantine. The NHL has said they expect to have announcements pertaining to Phase 2 of the league's response to the COVID-19 pandemic, which will be the first step of Return to Play.
Colorado is about 12 days into its Safer at Home phase, though Denver is only 4 days in. The governor is talking about opening up more by Memorial Day.
During the hockey hiatus, we've been evaluating how players were doing before the NHL season was put on pause. With hockey's return perhaps becoming more imminent, it's time to finish up with these evaluations.
So far, here are some of the players we've already considered:
Today we're finally going to start in on the team core. Next up is the highest paid Avalanche player, winger Mikko Rantanen.
Brief History of Mikko Rantanen
The Colorado Avalanche picked Mikko Rantanen in the first round of the 2015 draft, #10 overall. The Avalanche thought about trading up to acquire Rantanen, but they stayed pat. That was a strong draft year, which is the only reason he fell to the 10th spot.
Rantanen had spent the better part of two season playing in the Liiga, which is the top-tier men's league in Finland. He was playing in that tier as a teenager. He signed his entry-level contract the summer of his draft.
He joined the Avalanche for training camp and played nine NHL games that season. However, he needed time to become accustomed to the North American game. So, rather than burn a year off his ELC (a move they may have later regretted), they sent him down to the AHL.
Rantanen joined the NHL team full time the following season, which was the dreaded 48-point year. Yet he put up impressive points for a rookie in that situation. The next two season, the final of his contract years, saw him play on the top line and put up numbers second only to Nathan MacKinnon's.
That fact gave him incredible leverage over the summer in bargaining for a contract. (Maybe if the Avs had burned off that first year…) He missed all of training camp as he sat out for a contract, which he finally got — six seasons at $9.25 million annually.
Mikko Rantanen Stats with the Colorado Avalanche
This was always going to be a tough season for Mikko Rantanen. He held out and signed the most lucrative contract on the team, despite not being the best player.
Rantanen's rookie season, he earned 38 points (20 goals, 18 assists). The next season, he did considerably better — 29 goals and 55 assists for 84 points. That was the season that he supposedly cost MacKinnon the Hart Trophy.
Unbelievably, Rantanen bested his numbers the following season. He passed the 30-goal mark and earned 87 points total (31 goals, 56 assists.)
Like I said, this was always going to be a tough year as everyone looked at the player making the most money. Unfortunately, injury derailed a lot of Rantanen's season. He's played only 42 of the team's 70 games. He has 19 goals and 22 assists for 41 points. Not shabby, but he's not best-contract material either.
Evaluation of Mikko Rantanen with the Colorado Avalanche
Mikko Rantanen is second only to Nathan MacKinnon for who's the best forward on the team. Sure, his numbers what you'd hope for, but he was really unlucky with injuries this season.
You can't question Rantanen's magic. He's an ideal complement to MacKinnon, but also a player who can score on his own. Peep this goal:
That's a little rude, Mikko.
Anyway, the NHL isn't talking anymore about playing regular season games. However, they do want to host the playoffs. So, while Rantanen will be unable to add to this year's regular season totals, he can show off his prowess in the playoffs. (Hopefully.) In 18 playoff games so far,he's earned 6 goals and 12 points for 18 points.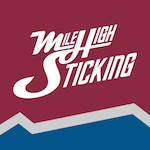 Want your voice heard? Join the Mile High Sticking team!
Write for us!
Mikko Rantanen is an elite scoring winger. He's just 23 years old, so he's sure to keep contributing to the team — and maybe keep besting his career years — for a long time.