Colorado Avalanche: Checking in on the Top Prospects
The Colorado Avalanche have a good NHL team. Let's see how their feeder team, the AHL Colorado Eagles, are doing with their prospects.
The Colorado Avalanche look to be the type of team that's going to challenge for a Cup, or at least make a deep run in the playoffs. Their time is now, and they have the depth to pull it off.
However, the best teams also have a supporting cast waiting in the wings. For the Avalanche, most of that staff is with the Eagles. So, let's look at how they're doing up in Loveland.
Chugging Along with the Eagles
Sheldon Dries is making a case for himself with the Eagles. He's played in all 31 games. He has 13 goals and 9 assists for 22 points. Six of his goals are power play tallies. Those are the kinds of numbers you want to see on a player challenging for a spot with the NHL team.
Logan O'Connor's numbers aren't quite as solid, but he's still doing pretty well. He's played 25 games with the Eagles, recording 16 points (7 goals, 9 assists). I'm pretty satisfied with that from the 23 year old.
Conor Timmins is second only to Martin Kaut in prospect level. However, the 21-year-old is fairing a lot better. He did miss a few games with injury, but he still has 13 points (3 goals, 10 assists) in 22 games. Remember, he's a defenseman. We're going to be seeing this kid with the NHL team for sure.
Fair to Middling with the Eagles
Shane Bowers has played 24 games this season. He's not exactly tearing it up with goals, having earned just 4, but his overall points look decent with 13. Sure, we'd like to see that a little higher, but this is his first full season with the team. He's 20 years old.
A.J. Greer has missed some games — he had some troubles earlier in the season, Still, I'd like to see a little more than 12 points (8 goals, 4 assists) in 23 games for a 23 year old.
Julien Nantel is what he is. He has eight points (5 goals, 3 assists) in 22 games. I don't have him in a lower category because we shouldn't expect much more from him.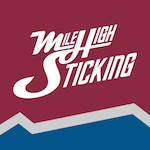 Want your voice heard? Join the Mile High Sticking team!
Write for us!
Should We be Worried?
Martin Kaut is about the toppest of top prospects playing with the Eagles. He missed some time with injury, so he's only played 17 games. However, he only has four points (2 goals, 2 assists) in those 17 games. I'm a little worried since this is the 20-year-old's second season with the Eagles.
I don't know that I want to say we should be worried about a 21-year-old fifth-rounder, but Igor Shvyrev only has eight points (6 goals, 2 assists) in 30 games. That's a wee bit worse than "fair to middling."
Nick Henry falls into a similar category. He's a fourth-rounder, and only 20. But he also has only seven points (2 goals, 5 assists) in 28 games.
Well, that's not too bad for the Colorado Avalanche's prospects. It's good to know our team looks deep.