Colorado Avalanche: Composing the Bottom Defensive Pairing
The Colorado Avalanche have a stacked blueline this year. The third defensive pairing could be an interesting mix.
The Colorado Avalanche's have a decent amount of defensive depth this year. It's so good to be able to finally say that.
Because of that depth, the bottom defensive pairing will be a mishmash next season. It is highly unlikely to show any consistency. Players will rotate in and out based on injury and how well they're jockeying for position with the team.
Last season, the following players showed up on the third pairing:
Essentially, everyone except Erik Johnson. I'm not saying they got third pairing minutes per se, but they were listed as being there.
As you can imagine, the three most consistent players on that list were, in order, Nikita Zadorov, Patrik Nemeth, and Ryan Graves. Barberio also made a regular appearance when healthy.
So, this is the third post in which we're considering defensive pairings.
Here are the first two posts:
Thus far, I have the first two lined up thus:
Girard-Johnson
Zadorov-Makar
I like those pairings for several reasons. One is each pairs a bigger player with a smaller. Two, you have players with more experience (Johnson, Zadorov) there to help the youngsters. Three, you have a couple two-way players (again, Johnson and Zadorov) complementing puck-moving defensemen.
Finally, conveniently, you have an LD and RD on each set.
Maintaining that opposite of handedness will be difficult because Colorado doesn't have any more NHL-proven RD. Besides Johnson and Makar, they have just Conor Timmins and Mark Alt.
Last season, the coaching staff adhered to the handedness in the top four. However, you saw two left-defense paired together throughout the season, including the favored pairing of Zadorov and Nemeth.
So, taking that partially out of the equation, let's look at some ways to pair the defensemen we have this season. Since Ian Cole isn't even going to be with the team until December, I'm going to leave him out.
Big Pairing
If you're looking for size, the pairing might consist of Graves and Kevin Connauton, whom the Avalanche acquired from Arizona in the Carl Soderberg trade.
Graves: 6'5″, 226 pounds
Connauton: 6'2″, 205 pounds
With Johnson and Zadorov out of the picture, those are the next two big defensemen. They wouldn't be a bad shut-down pairing that could also generate a bit of offense here and there. Both have a heavy shot from the point.
It also wouldn't be too bad to see young Graves paired with a veteran in Connauton (29 years old, 310 games).
Youth Squad
If you're going to use your bottom pairing to let the youngsters gain experience, then a pairing of Graves and Bowen Byram makes since. You've got a 24-year-old in Graves and, of course, an 18-year-old in Byram.
I highly expect Byram will be on this pairing on opening night unless his camp and preseason go horribly awry. However, I also suspect he'll spend just nine games maximum before returning to his major juniors team. I just don't think the Avs need to take a chance on him right now — and they definitely don't want to harm his development by rushing him.
So, you can still have a youth squad with 25-year-old Calle Rosen, whom Colorado acquired from Toronto. He has even less experience than Graves — 8 NHL games.
You might also see Conor Timmins take over where Byram leaves off. The 20-year-old missed all of last season recovering from concussion symptoms. If he puts on a good showing with the Eagles, he could land a spot on this pairing.
Puck Movers
Rosen would be a great start for this style of pairing. He's known as a great puck mover with some offensive chops. With the AHL Marlies last season he put up 46 points (7 goals, 39 assists).
Again, Byram would start on this pairing. However, when he returned to Vancouver, Mark Barberio might earn a trial. Barberio catches a lot of flak, but the man can skate, and he can move the puck.
Here is another time we might see a healthy Timmins step in. So, we could see Rosen being partnered first with Byram, then Barberio, then Timmins.
Although, it might be wiser to start with the veteran, Barberio, and pair him first with Byram, then Rosen, then Timmins. That could be a very likely progression through the year.
Handedness
If we put handedness into play, as we could with the eventual inclusion of Timmins, he could have a host of partners. In order of who I'd like to see him paired with:
Barberio
Connauton
Graves
Rosen
Of course, by the time Timmins was ready to join the team, we'd probably have Ian Cole back. The Colorado Avalanche blueline is eventually going to get crowded.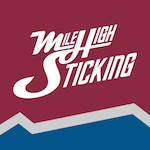 Want your voice heard? Join the Mile High Sticking team!
Write for us!
I think we're going to see some version of all of the above throughout the season. However, if I had to gamble on the opening night bottom pairing, I guess on Byram and… because of contractual status, either Graves or Connauton. It'll probably come down to which player has a better showing at camp and the preseason.
I'm going to bet on Graves.
So, here's the defense I predict will be for opening night:
Girard-Johnson
Zadorov-Makar
Byram-Graves
Here's what my forward lines look like:
Landeskog-MacKinnon-Rantanen
Jost-Kadri-Burakovsky
Wilson-Compher-Donskoi
Nieto-Bellemare-Calvert
I like the Colorado Avalanche roster. I think the team has a well-rounded mix of size, speed, experience, and skill.