Colorado Avalanche Game 2: Hello Eastern Conference, aka Philadelphia
The Colorado Avalanche host the Philadelphia Flyers in the first of two meetings. Colorado is looking to collect points in the tough Central Division.
The Colorado Avalanche are fresh off a decisive 4-1 victory over the (hated) Minnesota Wild. But the Cinderella Rule is long since in effect — you can't be too low after a loss nor too high after a win.
So, on to an Eastern Conference foe, the Philadelphia Flyers. Philly is fresh off a 5-2 victory over the Vegas Golden Knights in Vegas — that's not an easy feat to accomplish.
Being in different conferences, the Avs and Flyers only meet twice a season. Last year, the two teams split the series. Unfortunately, each team won on the road — we won't want that to be the case tonight. The Avalanche are hosting the Flyers in Pepsi Center.
All time, the Avalanche have an edge, having gone 17-10-2-4 (ties) against Philadelphia.
So, let's look at some storylines to watch in tonight's matchup.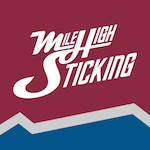 Want your voice heard? Join the Mile High Sticking team!
Write for us!
How to Enjoy the Game
Game time: October 6, 7:00 pm MT
TV Networks: Altitude TV, NBCSP (Flyers feed)
Radio: Altitude Radio (FM 92.5)
Teams Can't Bring their Mascots on the Road… Can They?
The Philadelphia Flyers debuted their new mascot at the beginning of the preseason to a big… splash. Or gasp. Possible a shudder.
Named Gritty, the Flyers' new mascot is essentially a giant orange beard with googly eyes and a belly button with functions we don't understand — nor do we want to.
Here's Gritty:
friend: "cheesesteaks are overrated"

me: pic.twitter.com/VbIZxdXyTh

— NHL on NBC (@NHLonNBCSports) September 24, 2018
Since his introduction, Gritty has slipped on the ice, shot a Flyers fan in the butt with a t-shirt cannon (I'd like to know if he's for-hire — I have a few Minnesota "friends"…), and done… this:
Goodnight, internet. pic.twitter.com/gx2Pbxfcds

— Gritty (@GrittyNHL) September 25, 2018
NHL teams have to leave their mascots at home, right? I don't think Denver is ready for Gritty.
But he may be coming for our poor Bernie anyway…
There's only room for one mascot in this town @GrittyNHL pic.twitter.com/YgcOfNcCcN

— NBC Sports Philadelphia (@NBCSPhilly) October 5, 2018
What About Girouuuuuuuux?
Nathan MacKinnon did not win the Hart Trophy as team MVP. Neither did Flyers captain Claude Giroux. In fact, Giroux wasn't even voted top-three as a finalist. I was highly amused on Twitter whenever the finalist were discussed because just two or three comments in you'd get a Flyers fan howling, "What about Giroux?"
Claude Giroux led his team in scoring with 102 points, which was indeed more than MacKinnon. However, he played on a pretty decent team.
MacKinnon put the Avalanche on his back, taking them from the worst team in the salary cap era to a playoff bubble team. If you're judging who is the most valuable player for his team specifically, that man is Nathan MacKinnon. So sorry he doesn't play in the East, so his games are past your bedtime.
Concerning the current season, each player has a goal from opening night.
Tonight, we'll get to see who spins some magic. My money is on our MVP hero, MacK Daddy.
The Colorado Avalanche have one more game against the Flyers, coming in just a couple weeks when they head to Philadelphia. After tonight's game, they have two days and then appear in Columbus for their first road game of the season.