The Avalanche unveiled their third jerseys in the 2009-10 season and they were almost instantly named the "Blueberries". Although often criticized for being quite the jinx these jerseys are quite the sellers, I myself own a Duchene, and since our home/away jerseys aren't much to look at I welcome the 3rds. Unfortunately the jinx of the Blueberries lives in the numbers.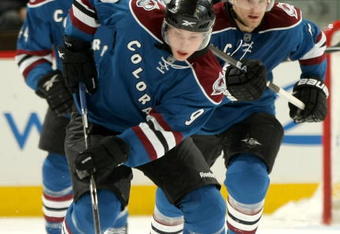 2009-10: 3-7-2, 8 of 24 possible points
2010-11: 3-6-3, 9 of 24 possible points
2011-12 3rd Jersey Schedule:
October 28th vs Edmonton
November 2nd vs Phoenix
November 23rd vs Vancouver
December 2nd vs St. Louis
December 13th vs San Jose
December 27th vs Winnipeg
January 18th vs Florida
February 2nd vs Minnesota
February 27th vs Anaheim
March 10th vs Edmonton
March 20th vs Calgary
April 5th vs Columbus
The Avalanche have posted awfully similar and just plain awful records with the 3rds over their first two years wearing them. Hopefully this year they turn it around.
Follow on Twitter @SCrociata or @MHSticking